Hello Michael,
Good job. exceptionnel . (Carentan)
Kind regards
C. Robe - (Dagny, ILE DE FRANCE)
---
Hi Michael,
I wanted to touch base and let you know that the signs arrived yesterday. I am really, really impressed with the final product and I want to thank you for the work that you did on them. They will look great in my "man cave" with the WW1 and WW2 medals of my family members that I have hung on the walls.
Many thanks again!
A. Joiner - (USA)
---
Mick
The sign rrived today - magnificent job - a lot bigger and heavier than I thought - which is a good thing!
Cheers
---
Hello Michael
My order arrived today and the only thing I have given my hubby is the Stalag Luft III sign and OMG he loves it , he is on your website now and I know by tomorrow I will be back ordering the Bletchley Park sign. I would like to thank you for Great customer service, all the items are fabulous, you contacted me to say the items were being despatched, the items arrived and the packaging was outstanding, I know my Husband will love them. Thank you for your great customer service. I would highly recommend your site.

Many thanks

Elizabeth - (London, U.K.)
---
Caen sign arrived safe and sound, very nice job thanks very much.
Regards
R. Whittaker - (Axis Film Services)
---
Hi Michael
I was out of town when the signs arrived but got them today and they are truly outstanding!
Thanks again!
B. Cleveland - (Texas, USA)
---
It 's AWSOME…...(Adolf Hitler-Strasse)
L. Belanger (Quebec, CANADA)
---
I wanted to tell you what an awesome piece the Monte Cassino sign is, I was not disappointed when I opened the package! Well worth the price and the wait time!
Thank You!
M. Ripley (Texas, USA)
---

Hi Mike.
My Anhalter Bahnhof sign is great. Thanks for a wonderful job.
---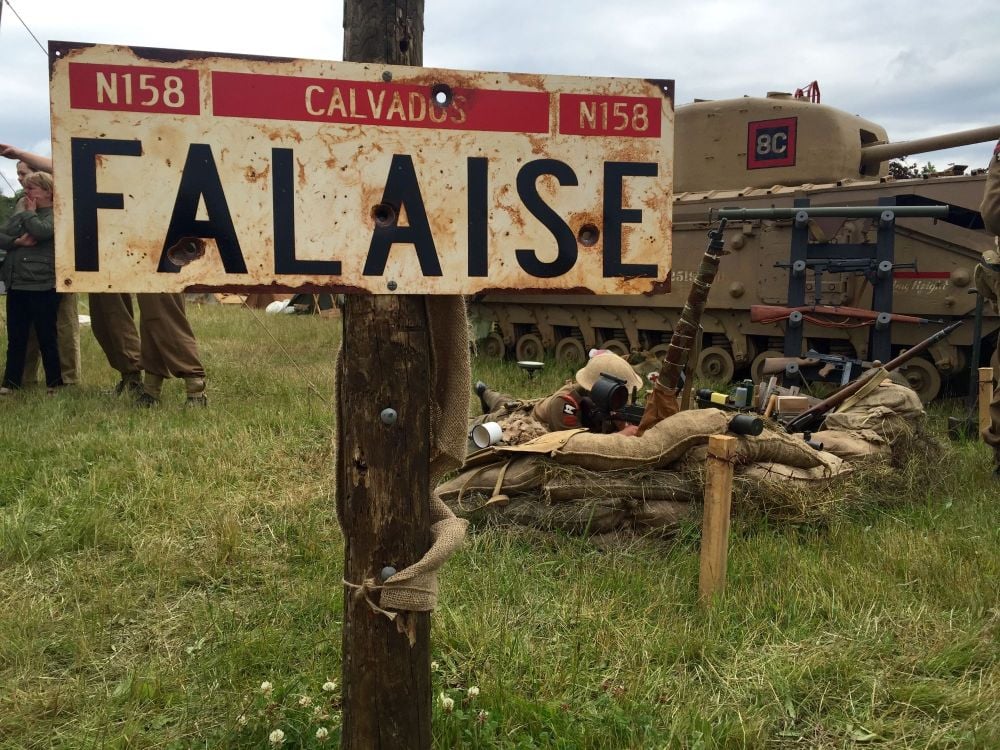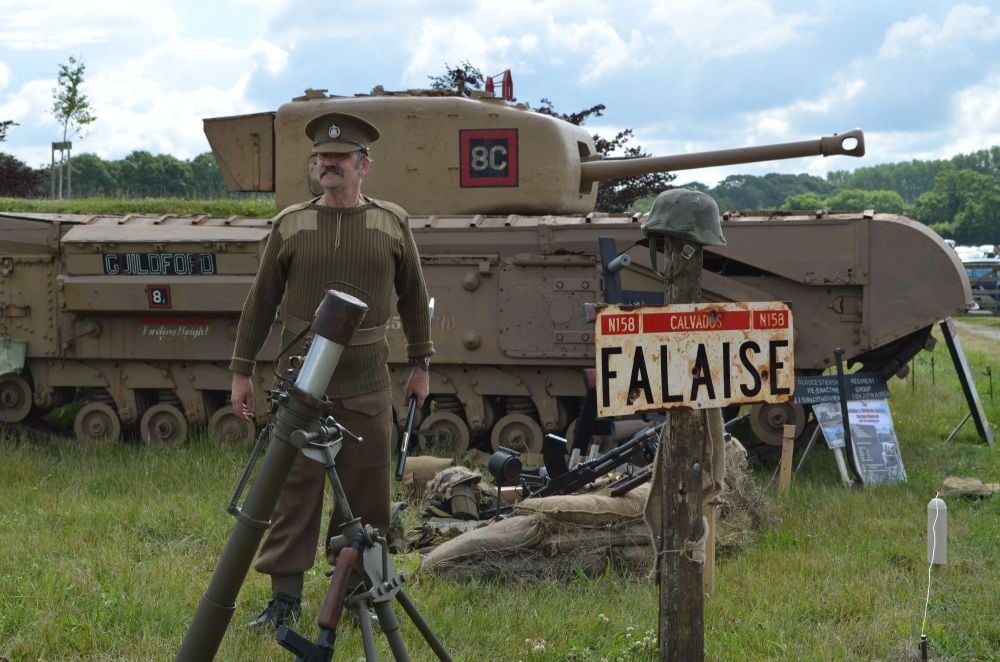 Hi Mike.
I just wanted to let you know I got my sign today and I have to say ... Wow it's great in fact it's brilliant.
I'm now working on the post to mount it on, I will send you a picture when it's all done.
Thanks again I'm well pleased.
Best regards,

I. Marshall (Wiltshire U.K.)
Gloucestershire regiment re-enactment group with the 1st Dorset's regiment re-enactment group at Tankfest 2016.
---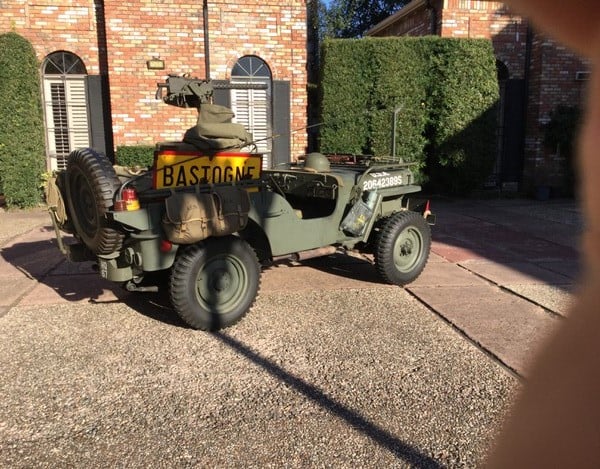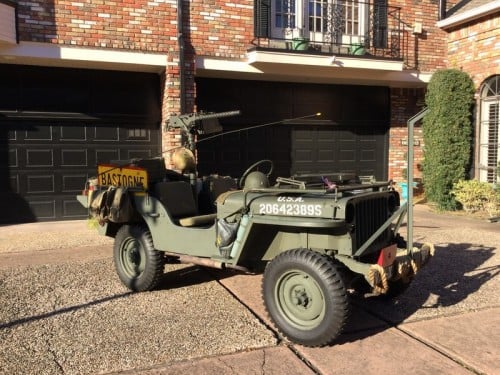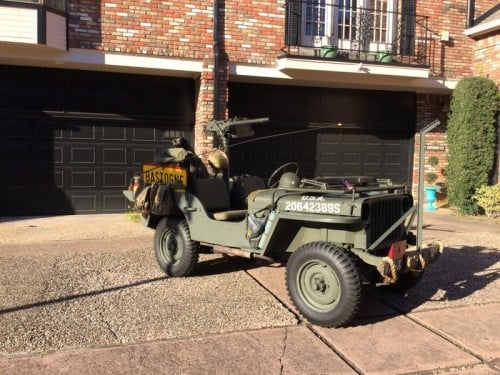 The Bastogne sign and fridge magnets - small replicas of history- arrived today and, as advertised, they are spectacular.
Thank you very much for your attention to my order and for your full and prompt responses to my questions and concerns. The shipping time from the UK to Houston was amazingly fast - faster than many interstate shipments here in the states.
I have 'installed' the sign on my jeep (marked as my Dad's was when he was there at the time of the offensive) and have attached a few photos for you. Had my Dad seen a sign like this at the time, my guess is he had good enough taste to have prompted him to liberate it as a war souvenir. Hence, I am very comfortable with its installation on 'his' jeep.
I hope you enjoy the shots.
Thank you again, Mick. I wish you success.
Best regards,
R.E. Singer - (Houston USA)
---
I want to let you know I was really, really impressed with you work on the Bastogne sign and the Ste. Mere Eglise sign. I'm a graphic designer by trade and tend to have rather unrealistic expectations at times. However, I gotta tell you I was completely blown away with your work on the signs. They are simply perfect. I've been looking for a sign to finish off my display room for a while now and this is perfect!! Many thanks.
Z. Gourley (Massachusetts USA)
---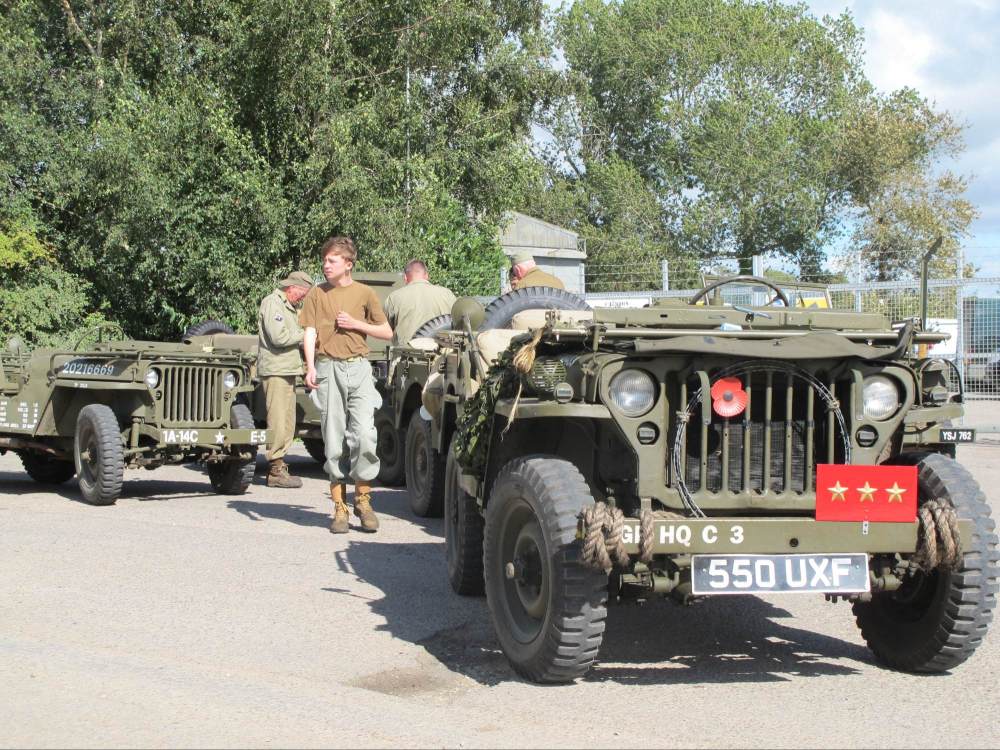 Going off in the Jeep parade at the Goodwood revival with 2 Normandy veterans ( Lance Rooke and Ron Minton)…!!
It's going to be a great 3 days….your 3 stars plate looks fantastic on the jeep!
---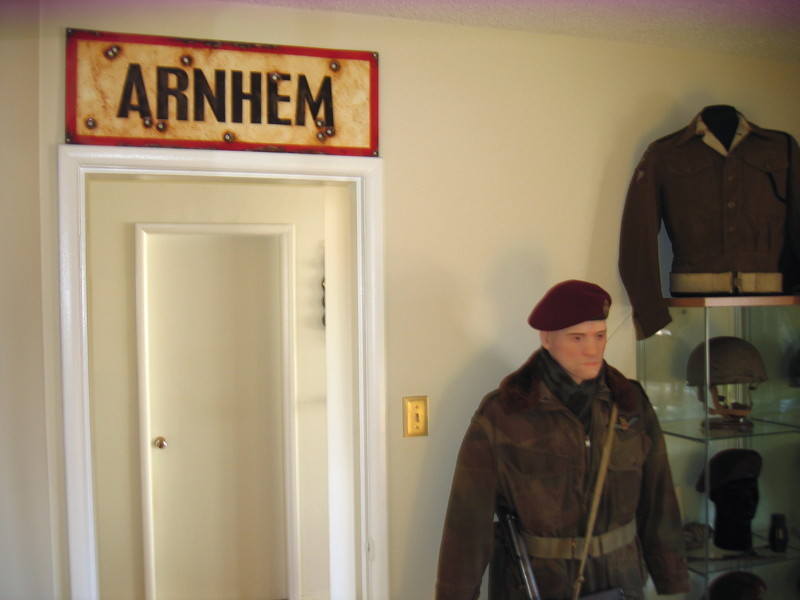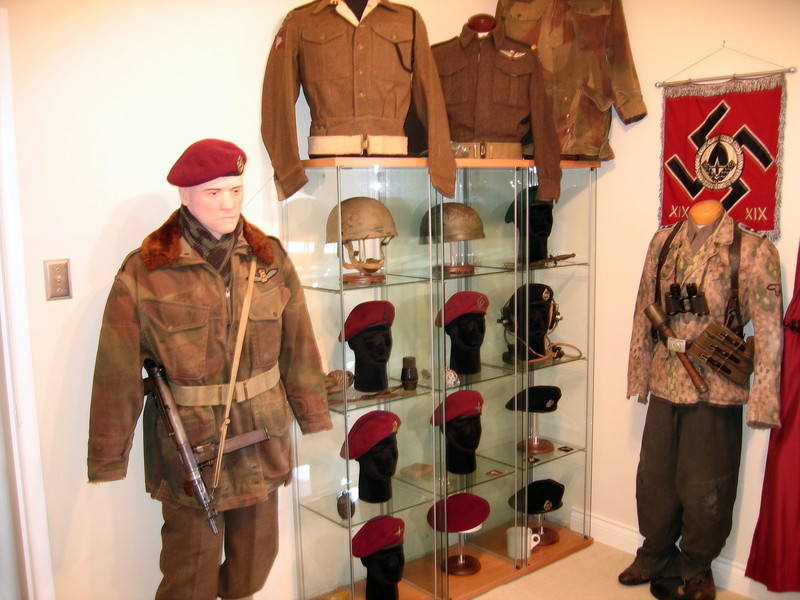 Ed. (Canada)
---
I wanted to pass on a great site: www.signsofwar.com I have always wanted to buy an original WW2 city/street sign from Belgium near the area where the 17th Airborne fought. , but could never bring myself to spend $750-$1500. While searching for original examples I came across Michael Miller's site and was astounded. I began working with him to create something for the war room based on this image: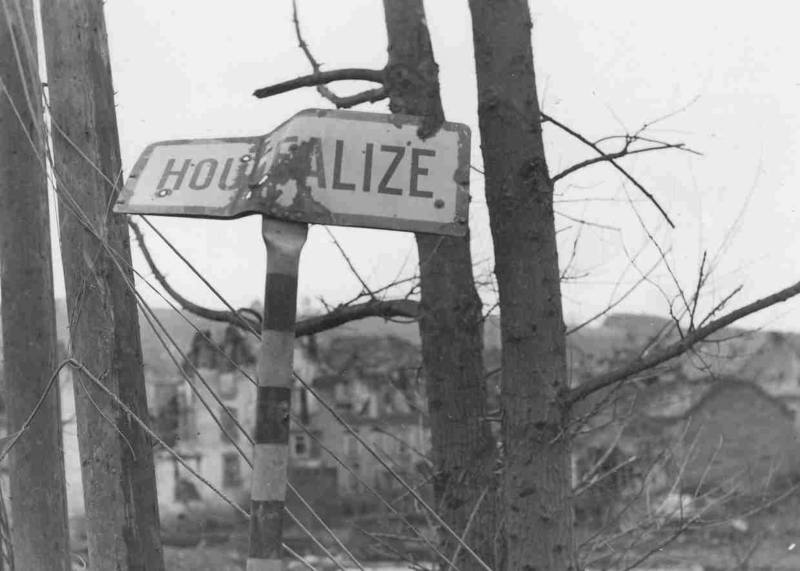 I asked Mick if he could prepare something like that without the bends, and perhaps with a little less wear, but close to the photo as possible. I sent him the image and here is what is waiting to be sent in the mail. I cannot wait to see it. I think it will look great in the 139th AEB display in my junque room. The unit passed through Houffalize during January 45.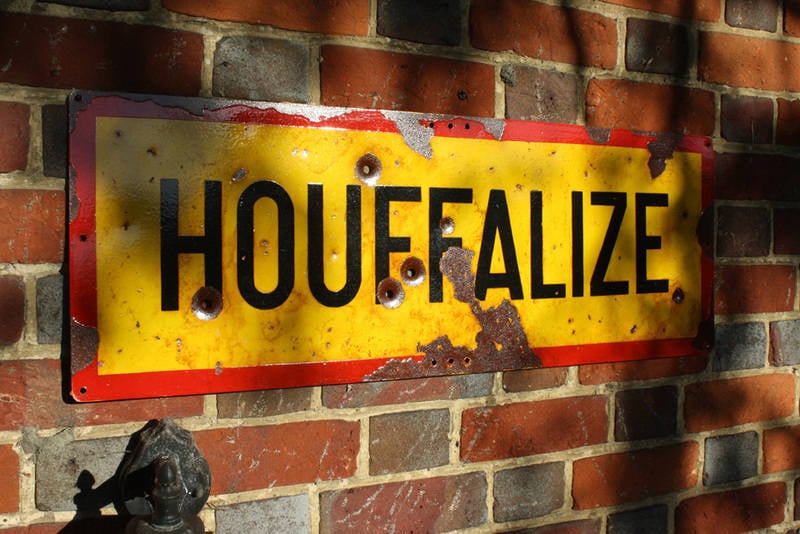 My sign arrived yesterday. I was pleased with both the packaging and the speed in which it arrived. Mick does a superb job of ensuring that no damage occurs. It is packed initially with crush resistant padding followed by thick cardboard. Very nice. Here is the finished product in the 139th AEB Victory Room!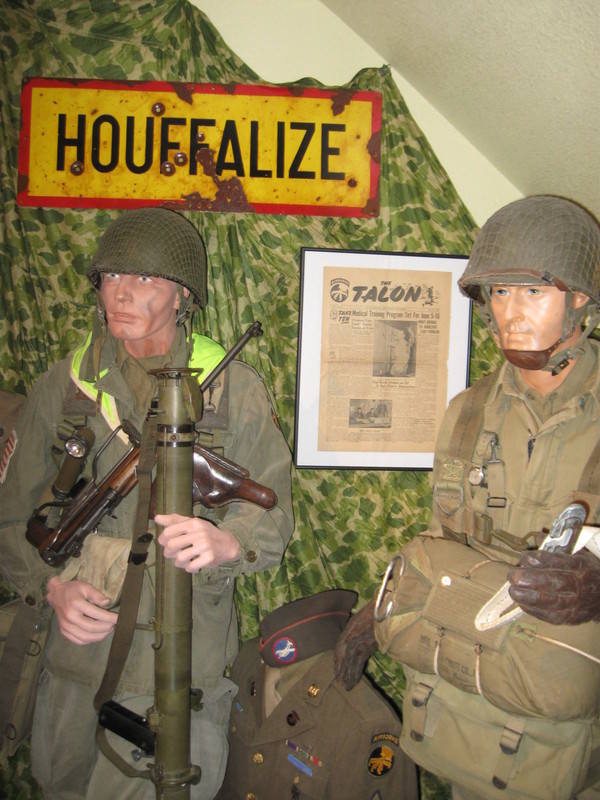 Mick is a great guy to work with. He sent several computer rough drafts before we decided on a final rendition. He matches the paint nicely, the bullet holes are either 8mm or .30 cal and the damage can be made to order. I can't wait to see it in real life.
Take a look at the examples on his site. I normally don't plug stores, but in this case I am happy to do so, because of the level of service and from the photos of the one I ordered, It looks great.
Ozzie (USA)
---
Hi Mick,
I just received the El Alamein sign and showed it around the office (everyone thought it was real!!).
This really is outstanding in every way! It made me want to start planning for the next one. I'll be showing it to other WWII collectors and reenactors.
I also wanted to thank you for your communications during the process. It can be a bit worrisome to send a bunch of money across the Earth for a product that is hand made, but you took the worry out of it by letting me know where it was at along the way. Thank you very much!
Best Regards,
Chuck A. (USA)
---
I have never said this before of anyone who makes repo signs...I'M IMPRESSED!
L. Bishop (USA)
---
I just wanted to let you know that the Bastogne sign arrived safe and sound to Texas last week. Thank you so much for the fast shipping, excellent packing and an outstanding product! It exceeded my expectations and will look fantastic in the collection room. You do amazing work and I will make sure to recommend you to anyone looking for that little "extra" that will make their collection stand out. Take care and thanks again!
J. Garner (USA)
---
The sign really looks great! Just like the one in Bastogne History Centre!
Ive seen the original sign several times,and this one you made will make my collection look a lot more alive.
I couldn't be more happy.
Remco (Holland)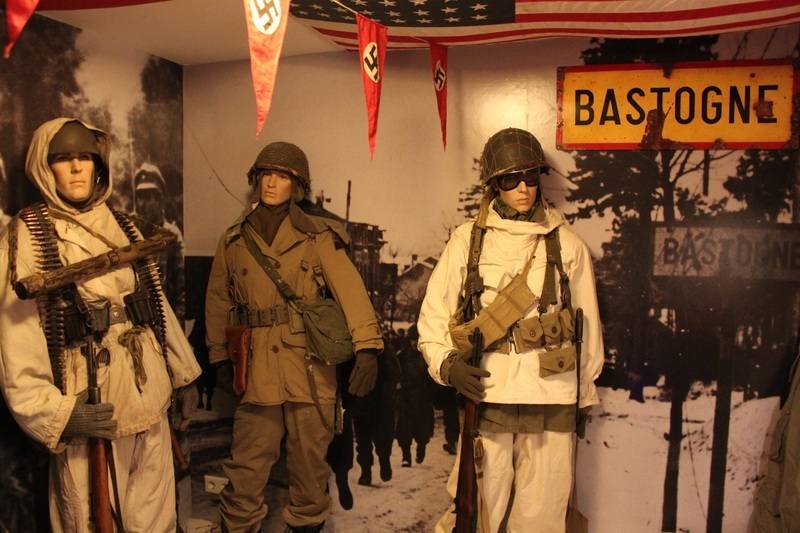 ---

http://www.usmilitariaforum.com/forums/index.php?/topic/197669-best-looking-ww2-eto-signs-ive-seen/
---